A body that swings, a man who looks back to move forward, a hand drawing the infinite, this man is the Treizour, the ferryman; This gesture, that is passed from hand to the entire body, is the gesture of the sculler, a perpetual motion that brings men to their boat, to the unknown, and then brings them back safely to the port.
Moving forward, it's also looking back. A thread that is given to us, which forms the weft that the shuttle comes to enrich with a new gesture, a new color, generation after generation, day after day, integrating encounters and traditions in a free weaving, singular and ever moving.
Two paths, apparently inverse, intersect half-way: When Cécile Borne, contemporary choreographer and visual artist, hunter of treasures and memories, meets Gildas Sergent, choreographer in love with Breton dance who uses this folk material as a modern way of expression.
From contemporary dance to traditional dance, from a gesture at work to a body that dances, there is only one step for anyone who knows how to seize the opportunity to renew his vision and to initiate new crossings.
Treizour is a show that has been woven over several months of fruitful exchanges between dancers, singer
s and choreographers, with the intuition that the experiences gathered here and there could mix in, that traditional and contemporary could meet, that old or recent songs could converse, that singers and dancers, professionals and amateurs, could get together by following the leading line of passing, transmission and exchange.
Bodies that discover themselves, that wake up and draw in their roots, in this traditional dance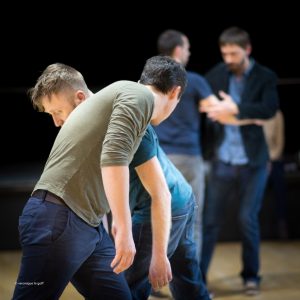 fund that has been transmitted to them for years and that they have ingested, until modifying their way of moving.
Voices that tame each other, redefining themselves in their relationship to
others, in the joy of being together for the first time on stage.
Dancing bodies that express themselves regardless of any formalism, interacting, inventing with what they are a relationship to the body of the other.
Songs rooted in the heart of a personal story of transmission and sharing.
An individual and collective adventure about invention, about intimate research on what our bodies, songs and dances can pass.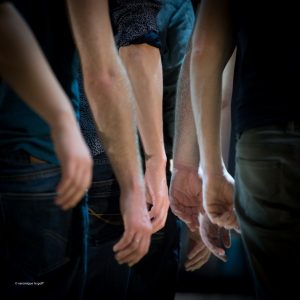 Duration of the performance: 1h15
On stage: 8 singers, 20 dancers
Target audience: Any audience – Understanding French is not necessary
Project supported by the Regional Council of Brittany, the County Council of Finistère, Musique et danse en Finistère, the City of Douarnenez, the Music and Dance School from Douarnenez, Emglev Bro Douarnenez, the cultural center Amzer Nevez from Ploemeur and the cultural center Le Triskell from Pont l'Abbé.
A creation Aziliz Dañs / Korriged Is